Monitor brings together the works of Eglė Budvytytė, Özgür Demirci, and Emilija Škarnulytė in the exhibition titled "You survived when nothing grew". The exhibition will be on view at the Historic Bıçakçı Han between August 19th and September 10th 2023 with the support of SAHA Association's fund for the sustainability of independent art initiatives and Izmir Metropolitan Municipality. In parallel with this exhibition, Monitor is hosting the screening of Florencia Levy's video work "Fossil Place," curated by Florencia Incarbone as part of its collaboration with BIENALSUR, the International Contemporary Art Biennial of South America. The screening, which will take place on the same dates and in the same space as Monitor's exhibition, offers a perspective on the possible future of humanity.
The exhibition "Survival Kit" sets out to raise questions on subtlety in artistic practices within countries that develop low intensity democracies, in this instance Turkey and Russia, and invites artists to research possible methodologies of survival in the context of (self)censorship.
Özgür Demirci's video work; From the Silver Screen to Soccer Field featured at 8. Makedox Creative Documentary Film Festival.
Özgür Demirci's video work; From the Silver Screen to Soccer Field featured at 10. Documentarist.
Özgür Demirci is on the list of the Güncel Sanat Magazine  "The first 60 artists to excite Turkey"
http://www.dairesanat.com/index.php/tr/
 Özgür Demirci is presenting his video work at 14th International Tirana Film Festival Video Art Section.
3-11 November 2016
http://tiranafilmfest.com/index.php?option=com_content&view=article&id=2478&Itemid=723
http://residencyunlimited.org/ozgur-demirci-fifteen-artists-to-follow-this-season-in-the-turkish-art-scene-hurriyet-daily-news/
Özgür Demirci has been selected for a residency at Residency Unlimited in New York supported by ArteEast.
http://residencyunlimited.org/
http://arteeast.org/
Özgür Demirci will be participant artist for the 32nd Kassel Documentary Film Festival
Stay With Me featured in Hyperallergic
Özgür Demirci, "Ammunition Book" (2014) laser cut notebook, paving stone (all photos by the author for Hyperallergic unless otherwise noted)
In Two Istanbul Galleries, Artists Piece Together Memories of Gezi
http://hyperallergic.com/208930/in-two-istanbul-galleries-artists-piece-together-memories-of-gezi/
Artist talk at Aciliyet Mektebi in SALT Beyoğlu
http://aciliyetmektebi.org/post/113916084226/ozgur-demirci-17-03-2015-ozgur-demirci-is-an
Tuçe Silahtarlıoğlu ile röportaj.
http://www.sanatonline.net/guncel-sanat/ithaf-edilmisin-ardindakiler-ozgur-demirci-roportaji
OSTRALE'O 14 – PRIVATE NATIONALISM
---
Mamut Art Project

3 – 6 April at Küçükçiftlik Park
www.mamutartproject.com
---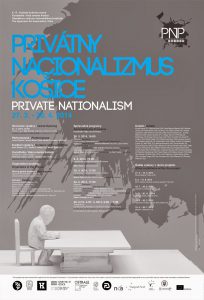 Private Nationalism at  Kunsthalle Košice
Artists: Kinga Araya (PL) Dalibor Bača (SK)  José Miguel Biscaya (NL) Borsos Lőrinc (H) Kassa Boys (SK) Ulu Braun (D) Daya Cahen (NL) András Cséfalvay (SK) Radovan Čerevka (SK) David Damjanovič / Jarmila Mitríková (SK) Oscar Dawicki (PL) Özgür Demirci (TR) Marcell Esterházy (H) Groupe Guma Guar (CZ) Tibor Horváth (H) József R. Juhász (SK) Nikita Kadan (UA) Matej Kaminský (SK) Nemere Kerezsi (H) Szabolcs KissPál (H) Tomáš Klima (SK) Gábor Kristóf (H) Barbara Lubich (D) MCFSAE (CZ) Michal Moravčik (SK) Olivia Mortier (B) Ciprian Muresan (RO) Martin Piaček (SK) Karol Radzinewski (PL) Tomás Rafa (SK) RAFANI (CZ) Jonathan Ravasz (SK) Société Réaliste (H) Martina Slováková (SK) Pavel Sterec (CZ) Gökçe Süvari (TR) Bálint Szombathy (H) Mark Ther (CZ) Lucia Tkáčová / Anetta Mona Chisa (SK) Jaroslav Varga (SK) Jan Vormann (D) Little Warsaw (H) Richard Wiesner (CZ)
Pozývame vás na vernisáž výstavy Private Nationalism/Privátny nacionalizmus, ktorá sa uskutoční 27. marca o 18. hodine v Kunsthalle/Hale umenia Košice. Medzinárodný výstavný projekt je vytvorený v spolupráci s inštitúciami Approach Arch Assotiation Pécs (H), MODEM Debrecín (H), Kassakovo centrum (SK), SPACE Bratislava (SK), K13 – Košické kultúrne centrá, Divus Praha (CZ), Bunkier Sztuki Krakow (PL) Ostrale Dražďany (D) a Apartment Project Istanbul (T). Projekt  predstaví výtvarné diela, reagujúce na pálčivú problematiku nacionalizmu, aktuálnu, no špecifickú, vo všetkých zúčastnených krajinách. Umelecké diela budú vystavené postupne v Prahe, Košiciach, Pécsi, Krakove a Drážďanoch.
Výstava potrvá do 30. apríla.
Kurátori: Ilona Németh, Jozef R. Juhász, Michal Štofa
Výstavu uvedie Edit Andras (H), historička umenia a kurátorka.
Otváracie hodiny v Kunsthalle/Hale umenia Košice: utorok – nedeľa: 11:00 – 18:00
---
Private Nationalism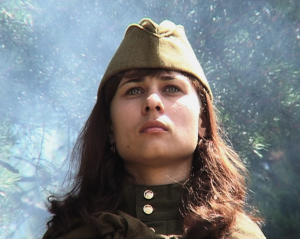 Artists: Tibor Horváth, Mara Oláh, Csaba Nemes, József Szolnoki (Hungary), Özgür Demirci (Turkey), Oskar Dawicki, Karol Radziszewski, Agnieszka Kurant, Cecylia Malik (Poland), András Cséfalvay, Martin Piaček, Tomáš Rafa, Jaroslav Varga, Martina Slováková, Jonathan Ravasz, Ilona Németh, József R. Juhász (Slovakia), Barbara Lublich, Ulu Braun (Germany), Daya Cahen (Netherlands) and MCFSAE (from Czechia Ivan Mečl, Lenka Klodová, Jan Turner, Filip Turek, Martin Zet, Šárka Mikesková, Jiří Surůvka, Ivan Vosecký, S.d.Ch. and from Serbia Uros Djuric
Opening cabaret by MCFSAE
Prepared by: Approach Art Association, Pécs (HU), Divus, Praha (CZ), Kassák Centre, Nové Zámky (SK), Zsolnay Culture Quarter, Pécs (H), OSTRALE, Drážďany (D) SPACE, Bratislava (SK), ApartmanProjekt, Istanbul (TR) and Bunkier Sztuki (PL)
Divus Prague
---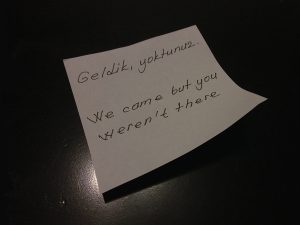 We came, but you weren't there.
Özgür Demirci
Opening |16.01.2014
Time | 18:30
We came, but you weren't there.
Exhibition Dates |17.01.14 – 09.02.14
"We came, but you weren't there." is a site-specific work based on sound activated interactive light installation. The aim of the installation is to invite audience to think about protesting, participation, and behaving collectively by their physical attendance. This work is a symbolic installation to show and observe the power of mass, especially focusing on body and physical interaction of individuals. Demirci, turns exhibition space into public action space based on collective consciousness. Demirci invites audience to think and feel about the power of familiar concepts like coexisting and participation with individuals' attendance in this light and sound installation.

Pasaj
It is a non-profit artist initiative organized to support artists who do not wish to perform in commercial art platforms. It is an area where artist and artist groups can create, show, share and discuss their work with audiences and participants.
www.pasajist.com
Address: Banker Sokak, No: 6B Galata, Beyoğlu, İstanbul
(Downstairs of Ot Cafe)
Visiting days and hours
Friday – Sunday
---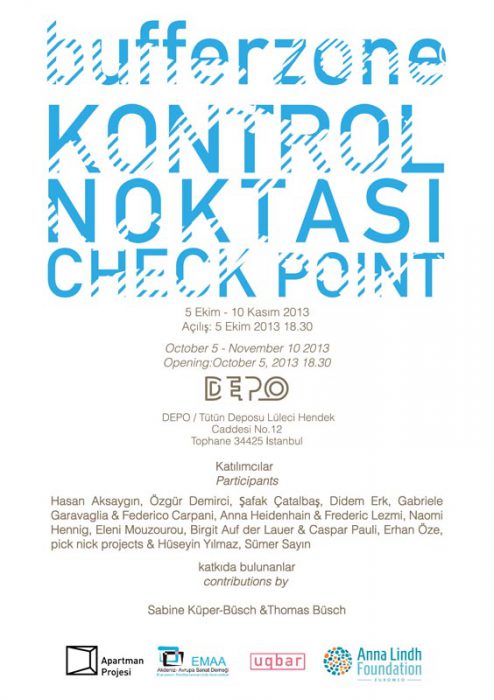 ---
Hacked me in Intimacy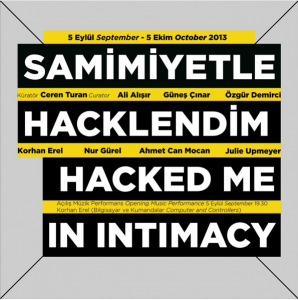 "Samimiyetle Hacklendim", bireyin özünde karşı çıktığı ya da belli noktalarda uzlaşma sağlayamadığı sistemler bütünü içinde var olma mücadelesini, ödün verme, teslimiyet ve boyun eğme olguları bağlamında mesele edinir. Değinilen sistemler bütünü, toplum kurallarından, başkalaşmış, gözetlemeci şehir yapılanmasına, medya ve sanal ağlara, şehrin ekonomik ve kültürel dinamiğine ve sanat endüstrisinin hiyerarşik düzenine kadar yaratıcı bireyin günlük hayatına nüfuz eden tüm etkenleri kapsamaktadır. Özne-şehir-iktidar ilişkisi referans alındığında, bu sergi, yaratıcı bilinçle varlıklarını sürdüren bireylerin 21. yüzyılın İstanbul'unda deneyimledikleri günlük yaşam akışından arda kalan çıkarımların, kişisel ve duygusal karşılıklarına odaklanmaktadır.
İzinsiz giriş eyleminin tüm olanaklarına işaret eden ve yabancı haliyle Türkçe'ye miras kalan 'hacklenmek' ifadesi samimiyet duygusu içerdiğinde, izinsiz olma hali, yerini gönüllülüğün teslimiyetine bırakır. Aynı zamanda 'hacklenmek', etiketlenmek/fişlenmek kavramlarına göndermede bulunmakta; bireyin varlığı ile yaratıcı eylem ve düşüncelerinin yalnızca kendisine ve başkalarına dayatılan hakikat yasası gereğince var olabileceği, aksi takdirde çoğunluğun huzuru için tehlike oluşturacağı anlamını taşımaktadır. Öte yandan, başkaldırı ve karşı koyma olasılıkları, modern toplum dinamiğinin dayanağını oluşturan 'değişim' olgusuna verilen olumlu (gelişim) ya da olumsuz (bunalım) yanıtların tercihinde aranmaktadır. Yani 'hacklenmek', gönüllülükten doğan bir samimiyeti barındırdığında, öznenin içinde var olmayı sürdüğü sistemin düzenleri karşısındaki teslimiyeti kaçınılmazdır ve bu duruma direnci ise, bir güç olarak iktidar ile kurulması olası dengenin belirleyicisi olacaktır.
The exhibition titled "Hacked Me in Intimacy" focuses on the ideas of compromise, submission, and conformity, linked to the people's struggles with the discourse of current systems. These systems constitute an imposition on society, media and social networks, the monitoring systems of the city, cultural and economic discourses and the hierarchical order in art industries which all impact the tiny details of everyday life. Regarding the prism of subject-city-discourse, the concept of this exhibition indicates the artists' everyday experience as both city dwellers and people who work for cultural industries. These are their personal and emotional interpretations of what remains of their daily experience in today's Istanbul.
When the idiom of 'hacking', which in Turkish is used in its original form, is discussed along with "intimacy", the act of unauthorised entry is transformed into voluntarily acceptance, which with it comes conformity. According to another Turkish use of 'hacking', which refers being indexed on a system's cards, the only way left for artists to perform their courses of action and beliefs is to align themselves with the discourse; or risk threatening the general benefits of society. Meanwhile, the slight potential of resistance and rebellion lay in the reaction itself, which is conducted by either negative (crisis) or positive (development) thoughts on the common 'change' which is in the centre of the dynamics of modern societies. Therefore, the idea that hacking emerges along with a willing intimacy means that individuals will fall into voluntary submission in order to be a part of the system, yet their resistance will determine the balance in power within the very same discourse.
---
BufferZone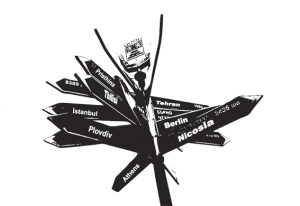 The first part of the workshop series, organized in collaboration with Apartment Project, Uqbar and EMAA (European – Mediterranean Arts Association) starts off in Istanbul in March 15th with the participation of twelve artists and collectives invited from Berlin, Istanbul and Nicosia.
The workshops will be realized between March 15-28, in the studios of Salt Galata. The program will follow an outline with talks and discussions by participant artists and including meetings, talks and screenings by Nora Seni, Orhan Esen, Sabine Kupher Busch, Thomas Busch and Mesut Tufan, on polarization of urban geography, divided cities, the division on the perception of urban public life to broaden the aspects of Buffer Zones.
Hasan Aksaygın, Özgür Demirci, Didem Erk, Gabriele Garavaglia, Anna Heidenhein, Naomi Henning, Eleni Mouzourou, Erhan Öze, Pick Nick (Panayiotis Michael, Maria Petrides, Alkis Hadjiandreou), Sümer Sayın and Pick Nick (Birgit Auf der Lauer & Caspar Pauli)
---
Özgür Demirci has been selected for the ARCUS Project Residency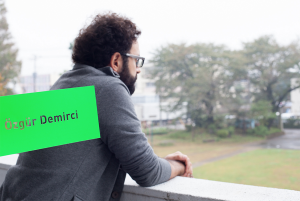 For the open call of applications, there were 337 applications from 55 countries / regions. After the selection, following 3 artists are visiting in Moriya city, Ibaraki and working at ARCUS Studio for 90 days.
http://www.arcus-project.com/en/topic/2012/topic120829100000.html
---
Reflecting on Reflection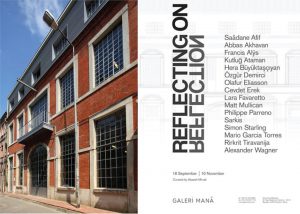 Galeri Manâ is pleased to announce Reflecting on Reflection, an exhibition curated by Abaseh Mirvali between the dates September 18–November 10, presenting works by Saâdane Afif, Abbas Akhavan, Francis Alÿs, Kutluğ Ataman, Hera Büyüktaşçıyan, Özgür Demirci, Olafur Eliasson, Cevdet Erek, Lara Favaretto, Matt Mullican, Philippe Parreno, Sarkis, Simon Starling, Rirkrit Tiravanija, Mario Garcia Torres and Alexander Wagner
Investigating the concept of "reflection" in reference as much to the materiality of the works as to the intellectual reflection they produce on human experience in both perceptual and cognitive terms, the exhibition is composed of works that dialogue through the phenomenological experience of reflection to convey the process through which concepts and ideas are formed in relationship to the material, social and historical contexts that surround us.
Olafur Eliasson's light-reflecting Emergence Lamp 9 creates an immersive experience actively engaging the viewer in the interpretation of the work, the meaning and concrete materiality of which is revealed only through its encounter with the viewer's perception. In Kutlug Ataman's The Complete Works of William Shakespeare, the dramaturgical texts that were originally intended for the stage are animated one after the other on a flat surface at an illegible speed, thus reflecting on the loss of meaning and trauma resulting from the encounter of Western and Eastern concepts of text and book. In Nanjing Particles, Simon Starling proposes a reflection on photography as a medium and on its relationship with historical truth by scratching the silver particles off the two dimensional surface of a 19th century archival footage to create large, stainless steel sculptures replicating their exact form. He thus reveals a permanent trait characterizing East-West relationships from the 19th century Chinese immigrant workers imported in Massachusetts, to present day workers in China who built Starling's two sculptures with the same title and whose distorted faces we see reflected from the surface of the sculpture, onto the final photographs.
Cevdet Erek takes the Turkish word for reflection, "yansima", which also means "onomatopoeia", and builds a conceptual link between visual and auditory forms beyond language and through an investigation of sounds, words and visual forms that human beings develop by imitating nature with their bodies and physical movements. "Reflection" thus refers both to the mimetic mechanisms of imitation and representation and to abstraction through dialectic encounter in a single act and through different variations, proposes to consider "mimesis" and "performativity" together.
The second floor of the gallery is turned into a film theatre, projecting 3 different films everyday starting at 11:00 am, 2:00pm and 4:45pm. Ririkrit Tiravanija's Chew The Fat is a series of autobiographical conversations between Tiravanija and 12 well-known artists of his generation, namely Pierre Huyghes, Jorge Pardo, Douglas Gordon, Angela Bulloch, Dominique Gonzalez-Foerster, Elizabeth Peyton, Tobias Rehberger, Carsten Hoeller, Liam Gillick, Andrea Zittel, Philippe Parreno and Maurizio Cattelan. The/Tea is an essay and documentation of Mario Garcia Torres' artistic gesture surrounding Alighiero Boetti's One Hotel in Kabul, Afghanistan, reflecting on the inevitable presence of the artist in his own work as a "persona". Inspired by the miraculous rescuing of the Afghan film archive, Francis Alÿs' film Reel/Unreel reflects on our relationship to image and representation by connecting a film roll to the children's street game of rolling a wheel with a stick. Garcia Torres' The/Tea and Alÿs' Reel-Unreel, two films commissioned by Documenta 13 will be shown in Istanbul for the first time after premiering in Kassel.
Reflecting on Reflection also presents a self-reflective stance by displaying works that engage with Galeri Manâ's space and the history of its building: Ozgur Demirci's Penalty Area, with its chalk-on-blackboard imagery, evokes the internalization of violence through education while with its installation on the front façade of the gallery building, it becomes a self-reflective sign of the gallery and the exhibition echoing into the street. A site-specific work by Hera Buyuktasciyan, installed on the wellhead that has been long devoid of its function, activates the cistern beneath the gallery building and its invisible history. In this sense, Reflecting on Reflection resonates with Galeri Manâ's new direction and practice as a gallery and marks the beginning of a new cycle under the curatorship of Abaseh Mirvali, focusing on social, historical and architectural aspects of the building and the neighborhood that the gallery inhabits. It is the first in a series of exhibitions concerned with "reflection" and "reflecting", taken not only physically, as in sound waves or light, but intellectually, analyzing, reconsidering and questioning experiences within a broad context of issues.
Abaseh Mirvali is the Chief Executive Officer and President, Comisaria of Platform 5280, Biennial of the Americas, a biennial of contemporary art and critical thinking taking place in July 2013. Mirvali resided in Turkey between 1998-2002 and has returned annually since then. Between 2005 and 2008, she served as Executive Director of the Jumex Foundation/Collection, a post in which she successfully consolidated, institutionalized and developed one of the largest and most important collections of contemporary art of a private institution in Latin America. Invited to be a juror of the Magic of Persia Contemporary Art Prize in 2010, she also coordinates lectures on the new emerging scenes in contemporary art in the "Conversations" series of Art Basel in Basel and Miami. Ms. Mirvali sits on the selection committee for several foundations, and in addition to advisory and directorial roles, is an internationally recognized contemporary art commentator and jurist.
Galeri Manâ, located in the Tophane district of Istanbul, is a converted wheat mill that dates to the 19th century and features 400 square meters of exhibition space. Founded by Mehveş Arıburnu in 2011, the gallery seeks to establish an inclusive and interdisciplinary dialogue through its artistic program, special events and publications. Galeri Mana works with artists who stand on the edges of contemporary artistic practice by investigating the boundaries of their mediums and expanding their conceptual reach.
Galeri Manâ is open Tuesday-Saturday 11:00-18:00
---
La Turo de Babel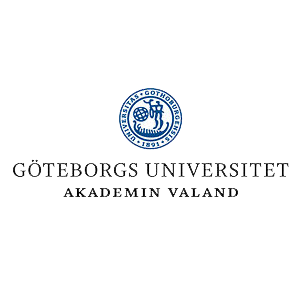 Artists: Per Bäckström (Sweden), Özgür Demirci (Turkey), Mohammad Fadaie (Iran), Allison Hunter (USA), Julie Fournier Lévesque (Canada), Neda Zarfsaz (Iran), Johan Zetterquist (Sweden)
Curated by Emelie Storm (Sweden), Yitian Tong (China), Azadeh Esmaili Zaghi (Iran)
---
Özgür Demirci's book has been released by LAP Publishing.
Penalty Area – The experiment of punishment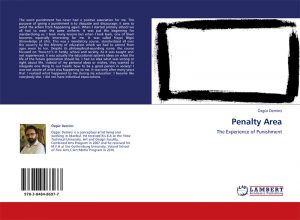 https://www.lap-publishing.com/catalog/details/store/gb/book/978-3-8484-8697-7/penalty-area?search=penalty%20area
---
Money Issue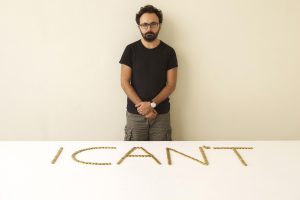 Money Issue
Opening 26 January
27 January – 5 February
Curator: Nicoletta Daldanise
Artists: Elmas Deniz, Özgür Demirci
Money issue exhibition curated by Nicoletta Daldanise will take part at PASAJist between 26th January to 5th February 2011 with the participation of artists Elmas Deniz and Özgür Demirci. Exhibition mainly deals with poverty in general and working conditions of the artists.
Elmas Deniz recent work revolves around poverty in urban context and value systems that are distinct from the ones that are operating in our capitalist societies. She evaluates the issue of poverty from her social economical status through this political perspective. This exhibition mainly includes her text based works, aims to expose bare facts about poverty in global scale using the possibilities of text, basically quotes.
Özgür Demirci's works based on his own experiences as an artist that focuses on the financial problems of the art system and its effects on the artist's. His works ironically deals with the issue and consist of images about difficult working conditions and survival strategies of the artist's while he also investigates artist's relation with the art institutions.
---
Planes, trains, automobiles and boats

A series of video works exploring narratives and issues via the presence of vehicles that feature as social symbols, political motivators or purveyors is being presented in the Walk-in Cinema at SALT Beyoğlu. Planes, Trains, Automobiles and Boats was conceived in response to the first-floor installation Across the Slope by Ahmet Öğüt.
Video works by Robert Smithson, Ant Farm, Wael Shawky, Fernando Sanchez Castillo, Michel de Broin, Özgür Demirci, Ahmet Öğüt & Guy Ben-Ner are part of the Car series in the Walk-in Cinema!
---
Friday in F.R.A.C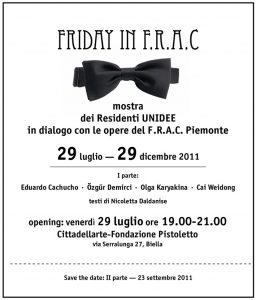 ---
Özgür Demirci has been selected for Unidee in Residence